The "Friend Zone", coined by the popular TV show Friends, apparently about a group of people living in their own zone, is generally used as a term to described a friendship between two people where one of them thinks they should fuck and other one is totally not into that. In popular culture it's discussed all the time, including in a pretty sweet Ryan Reynold's movie with a weak ending, if you can even watch that far without getting lost in his eyes. Seriously.
But there seems to be a huge misconception about what is really happening here. Most 'nice guys' hate having to be someone's friend when their only interest was banging, and then get all pissed at the girl. And probably perfectly fine girls get shit on for not dating what is probably a really whiny/annoying/ugly dude just cause he hangs around all the time. The friend zone is thought of as a prison for guys with a lady warden, when really its just sad betas fucking up their lives, being bitter, and pretending to be nice guys cause they're mad they got rejected. Let's talk about some FACTS to keep you from ending up where you don't want to be!
1. You Can Only Friend Zone Yourself
This is incredibly important to understand, and it should be taught in middle school. If you are Friend Zoned it is 100% the fault of your own, and you can't blame anyone else. Doesn't matter what you do, how you are perceived by others is not their problem.  You really gotta make some moves from the get go, so you can see if their is any hope for a relationship (or casual sex), or at least become an option down the road if you stick around. But if those moves don't work you gotta take your rejection as an opportunity for personal growth, instead of getting all pissed at the lady rejecting you, cause its not her fault for not being into you.
Some dudes get it into their head that they're really nice to a girl she'll just fuck them, which really on paper doesn't sound like a practice that makes any sense. So they just spend all their time piling on compliments and favors in a futile attempt to be seen as not a friend (when they're really just being a really good friend) and then blame the girl for never being attracted to them from the start. If someone thinks you're their friend and you want to date, they don't have to, and most likely they do not want to. You can't hang out with a group of girls every Saturday night and then blame them when no one wants to have an orgy. Why would your friends suddenly just want to fuck in a big pile? You do that with your Craigslist friends who responded to the orgy post. Friends don't do shit like that, and if you don't like it, good news!
2. Friendship is Like, Totally Voluntary
"When a guy agrees to be friends, he's forced to stifle his attraction while regularly seeing and talking to the woman he's attracted to. She discusses her love life and has the audacity to ask his advice on it. He performs occasional "manly" household and automotive favors for the women. Essentially, he does everything a boyfriend would do – without the benefits."

—Some broad on wikipedia
What kind of fucked up friendship is that? 'Hey man, I'mma force you to do all these things for me while I bitch about some dude and then leave because I am clearly just using you for free favors.' But don't blame her for taking advantage of the situation, no one has a gun to the dude's head. You don't have to go over to some girl with a boyfriend's place to move her piano whenever she calls, you can literally go do anything else. If you want to help someone out go for it man, but don't get all pissy when you don't get a blowjob, you knew that shit wasn't coming when you drove over there. All time and effort wasted is your bad, shoulda known better man.
If you don't want to be someone's friend, then don't, totally not hard. If they ain't interested its always best to get over it and move the fuck on. If you just want to fuck them and don't like them as a person stop responding to their shit, most likely they won't really care that much anyway. All for doing favors for friends, but if you gotta a shitty friend who asks for shit all the time but 'can't find their phone' whenever you need some help, might be time to cut some friends, even if you totally thought you were gonna get some that one time.
3. Forced Relationships are a Bad Idea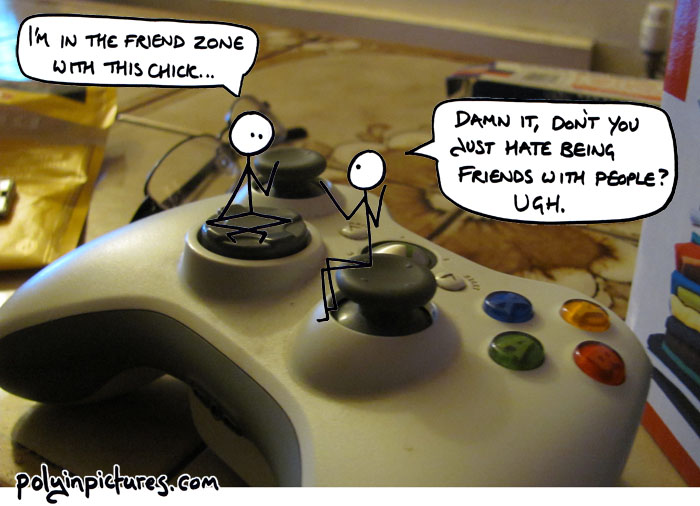 So you miss the dating opportunity, but you don't want to break off contact with the girl, now you got a friendship. Its great having friends of the opposite sex (or same sex, what up gay bros), and actually its a little weird if you don't. Usually when people fuck up their friendships with ladies, its cause they're forcing a relationship that has no place there. If there's a mutual attraction tho, go for it. Not guaranteed to work of course but a lot people get in great relationships this way. Worst case scenario you lose one friend, and you can avoid that by not fucking each other over and going into a bad break up. This isn't that big of a deal.
But its pretty easy to tell when the other person is not into you, and that situation its important to not force a relationship. Find someone who is into you and keep your friend around. When they're not into it and you try to force a relationship just 'cause you really want it', you're probably just gonna creep 'em out and create a really awkward situation that does not need to exist. Rule of thumb, if you can't get at least get a friends with benefits scenario going (the living together before marriage of dating a friend), should probably give up on the girl. There are literally billions of others. Know your role, if you friendzoned yourself and are fine with it, have fun with your friend and don't get hung up on her. If you don't want a friend, you just gotta get over the girl, move on, and quit wasting your life complaining about some sex you was never gonna get. Its sad man.
Don't you hate dudes complaining about friendzoning? Do you feel for hot chicks with a ton of friendbros bugging them all the time that will never get it? Do you have any chill lady friends or friends with benefits (brofist)? Shouldn't that Ryan Reynolds movie have ended with him not marrying that girl, realizing they were never friends cause he was just obsessed with her and that's what she's doing now and then they start an actual friendship while he goes on to bang tons of hot actresses?