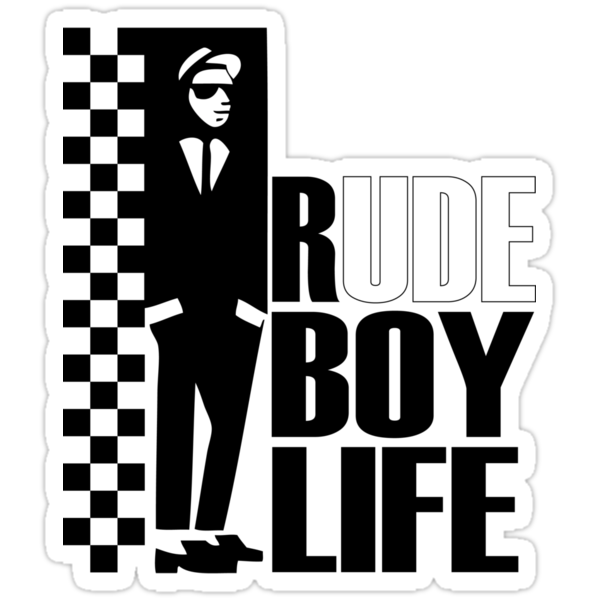 In the late 90′s, something weird happened: the god damned Mighty Mighty Bosstones put out their 36th or whateverthefuck album and, against all logic, the thing was a hit.  Ska became a thing that the mnstrm plebeians were skanking their hearts out to. Paul Rudd and Alicia Silverberg were getting down to the Bosstones doing their best Chuck E. Cheese robot band impression in that movie about Turk from Scrubs.  Finally, ad execs at Long John Silver's had the sound to play over their commercials hocking rubber "food."  If you were a horn-playing band geek or a mediocre chick vocalist, the ska boom of the late 90′s was YOUR. FUCKING. MOMENT.
Ska was the Go-Bots to punk's Transformers.  Back when Tim Armstrong was known as Lint, ska was relegated to the dark corners of the subculture.  You only cared about ska if you were British and you were one of the 17 people in The Specials…the Venn Diagram of ska fans was pretty pathetic.
Then Joel McHale's six-sided die landed on the side that allowed the Bosstones, Reel Big Fish, and whatever a Skankin' Pickle was to have successful music careers. And I ate that shit up like it was one of those Teenage Mutant Ninja Turtle pies they sold for a hot minute.  In high school, I cared about two things: punishing my friends at Goldeneye and skanking to/playing sick ska slams (skalamz, if you will).  We were "picking it up" like employees at the KY factory on their lunch break on Free Hard-Boiled Egg Day. Yes, I have played my share of lulzy skacore.  I carried the ska torch for waaaaaay too long.  I am here to share my top 5 "deep cuts" ska bands.  Let's go!
#5 Less Than Link Slap80
Ok, I'm immediately messing things up.  #5 consists of three bands who, for all intents and purposes, will represent the entirety of the skacore genre because I defy you to tell them apart.
Link 80 was best known for having a future corpse related to Danielle Steele as their singer.  He really "cowboy'd up" and grabbed the brass ring of OD'ing on heroin and earned his wings– lolololololol critical hit! +15 play on words damage!  They got some new dude to fill the void that Nick Trainable left and they made an album called "The Struggle Continues…"  It was pretty sweet, all things considered.  They had some sick screamo/ska jamz on that album that I was really crushing on.  Most of the dudes went on to start a band with the mission statement: "we think we can do better than dictionaries at truly defining 'mediocre'" and named it Desa.  Sax player dude went on to join the RX Bandits (we'll get to them later) and enjoyed tenure during their strongest albums.
[youtube http://www.youtube.com/watch?v=jiVWHOEnQI4&version=3&hl=en_US&rel=0]
Sick "Usual Suspects" sample! Bryan Singer is m0shing!
Slapstick appealed to me over all the other skacore bands for whatever reason.  Looking back, they really just sounded like every other band riding dat 3rd wave at the time.  Maybe it was just their extreme amount of "fuck you, mom and dad" songs that really resonated with me via "no, YOU take out the trash!/I already did my homework! I can play Ocarina of Time all I want!  No, Ocarina of Time isn't a gay porn! Well…it kind of is…".  What I'm trying to say is, I had a lot of arguments with my parents' rocking chair, basement corpses.  Also, holler at me if you watched Slapstick's Live from the Fireside Bowl VHS incessantly! Dat "Broken Down" singalong!
[youtube http://www.youtube.com/watch?v=DAW8YyR2FLI&version=3&hl=en_US&rel=0]
 People PACKED venues for that janky guitar back in the day.  Also, mirin' that kid's Virginity Beanie: Excessive Buttons Edition!
Less Than Jake have the honor of being the sad old dudes still carrying the torch/beating that dead horse like they were Christopher Reeve at a horsey funeral home after hours on Free Baseball Bat Day with an hour before the cops responded to the wheelchair ramp-based motion sensor burglar alarm tripping.  Still active and still cranking out tunes, these dudes are the Big Bad Voodoo Daddy of the ska world.  These guys kinda missed out on reaching "Super Popular" like your Mighty Bosstones and Reel Fishes.  They had to settle for "Popular Enough That A Ska Band is Our Only Job" which, seriously, Achievement Unlocked you guys.  That's fucking impressive.  Also PEZ.
[youtube http://www.youtube.com/watch?v=_F-ipYpd53I&version=3&hl=en_US&rel=0]
This video contains an amount of weaponized zany comparable to 30 high school drama kids quoting Monty Python slipping on 50 banana peels.
#4 Catch 22/Streetlight Manifesto (shut up, they're the same band)
Catch 22 was one of the first head-scratcher signings for Victory Records.  I guess these guys set the precedent of Victory no longer being an exclusive club of hardscrabble bros with black, coarse body hair.  Their songs were neither about New York City or "fighting The Enemy via togetherhood" so did Tony decide to sign them after a peyote-laden spirit journey?  No.  It's cuz Keasby Nights was a sicktight serving of 3rd wave ska by a bunch of skinny kids from New Jersey, god dammit.  Catch 22 were the kings of "bookish ska" via Thomas Kolnakcooakoyovich writing lyrics like he was getting paid by the gosh darn syllable.  Then some super boring drama happened and most of the band evolved their Pokemans into Streetlight Manifesto.
Streetlight Manifesto is the closest thing one could get to "regret skacore."  The lyrical content is super srs, especially considering that most ska bands' songs could best be visually represented by a portly, Jack Black-type fellow slipping on a banana peel for eternity…so like I guess the banana peel is on a Mobius Strip or something.
[youtube http://www.youtube.com/watch?v=tg8e1FiskCI&version=3&hl=en_US&rel=0]
Here's how facepalmingly zany skacore was.  I can't tell if this is the god damned official video for the song or some lulzy fan-made war crime.
#3 Folly
Folly was a band of chill bros from Jersey.  I guess they grew up parallel to yours truly: ska was popular as we were delving deeper into the whole "punk rock" thing and then we never wanted to let go as we discovered better music.  They were basically generic, but sometimes inspired, hardcore with Rick ta Life "caw! caaawww!" crow vocals and then some ska breaks thrown in here and there to blow people's minds.  It seems like a pretty lulzy combo (and to most people it probably was) but I think they cranked out a ton of sick jamz.
I think that Folly was a perfect example of: "We're New Jersey.  We can't be normal."  It's always SOMETHING with you, Jersey, isn't it?  Deadguy, Dillinger, these bros, The Number 12 Looks Like Yous? The state motto should be: "New Jersey: Fuck You, 4/4″.
The thing about Folly is that they were active exclusivley AFTER the ska boom of the late 90′s.  Being a ska band after 1998 was like being a fan of any out-of-town sports team while in Philadelphia; you're just always getting batteries thrown at you.  So, hats off to these guys for really toughing it the fuck out.  If the word "faggot" was a penny, these dudes probably could have collected enough Fag Pennies that got thrown their way at hardcore/metal shows to do Scrooge McDuck backstrokes for the rest of their days.  U fought da good fight bros! Miss u! Call me!
[youtube http://www.youtube.com/watch?v=ory1ipySyoI?rel=0]
 I chose this video because of the absolutely hilarious "Chewbacca Dying of Dysentery in the Background" audience participation vocals.  You're welcome.
#2 The Suicide Machines
Holy shit, you know what? Fuck you. The album Destruction by Definition still rules.  Every song on this album by these Detroit bros just shreds.  And then they end the whole shebang with a ska'd up Minor Threat cover?! 16 year-old me couldn't stop cumming and yes, that absolutely made family dinners super awkward.
The subsequent albums ranged from "solid skacore efforts" to "face-palmy attempts to reinvent themselves via 'oh shit, ska is a sinking ship,'".  But yeah, this album had THE best skacore song about Vans shoes written in the mid-to-late 90′s ever written.  Bonus points to this band/album due to the inclusion in the Tony Hawk's Pro Skater soundtrack.  "New Girl" (dat beefy fucking snare fill!) is forever burned into my memory along with shredding killer lines around the "School" level with #1 scumbro Chad Muska ("ska" in his name?! Ohmgeeeee!).
The drummer of The Suicide Machines, Derek Grant, is fucking amazing.  As a drummer myself, this dudes work on Destruction by Definition made teenage me want to hang up the instrument forever via being a lazy teenage shithead who barely practiced.  The dude seriously never stopped hitting everything, but he didn't over-play.  He left the band after the album Battle Hymns and ended up in Alkaline Trio.  THAT dude in THAT band is like using a chainsaw to cut through butter.  Sooooo disappointing.
I think the Suicide Machines hung it up a few years ago and then did a few reunion shows (+5 originality buff) and then went away again.  Singer bro has a d-beat band called Hellmouth.  They're not terrible.  Meh.
[youtube http://www.youtube.com/watch?v=F2ZaR7iFmAg&version=3&hl=en_US&rel=0]
Is the video grainy?  Plz log on to AOL (if you have enough minutes) and Web Crawler search for the latest version of Real Video Player.
#1 Rx Bandits
The RX Bandits is a band that I non-ironically enjoy to this day.  They can play the absolute shit out of their instruments.  They, in my honest opinion, are a shining example of how to survive one's origins as a band birthed from a lulzy genre.  These bros realized super quick that skacore was gonna drop the toaster in the tub real soon.  With each album release, the RX Bandits got more and more proggy and rockin', with the pinnacle being their album The Resignation and most of the follow-up to that: …And the Battle Begun.  These dudes also exhibited symptoms of a very common post-skacore fallout: The Disappearing Horn Section.  With every album, horn players departed the band and the amount of "sick horn skalamz" parts minimized.  However, with the reduction in face-palmy skacore trappings, the equal yet different Filth of the Hippie reared it's macro-biotic/organic/fair trade head.  Starting with the album "Progress", the lyrics became progressively more and more about vaguely broad political issues (boo war, yay third world country smiles).  This insufferable granola bullshit came to a head with their latest and final album "Mandala."  Not only were we tits-deep in annoyingly-leftist talking points, but the music had become less techy prog rockin' and more crunchy, groovy jams.  Even though these dudes are one of my favorite bands, I'm super glad they called it quits before they could turn into their 3rd and final form (end boss from a JRPG-style) of becoming hippie jagoffs that would try and pay for things "with a song" and smell like week-old "I've been living in a tent at a festival" crotch mung.
[youtube http://www.youtube.com/watch?v=-9nMYKivoxw&version=3&hl=en_US&rel=0]
Brazzers presents: Skinnyfat Bro Fuckfest 13
So there you have it!  Ska will never die in that there will always be a need for a soundtrack for dudes to get Friend Zone'ed to.  To future generations, I would say: don't make the same mistake I did.  Choose to bet the house on a musical genre that won't make people snicker to themselves and slowly inch away from you quite as much.  Luckily, I can poke fun at myself and realize how lulzy one's teenage years can be… but that isn't the case for everyone.  Some bros will sweatily launch spittle-punctuated screamversations at you about why awkward, white dude ska bands are just as legitimate as the next "real band."  Disregard these chuckle heads.  They don't realize that they are essentially one 5XL tshirt away from becoming the equivalent of juggalos via their stubbornness, insular, head-in-the-sand resistance to jump from a sinking ship.  Today, the only ska I listen to are the 2 – 3 ska jamz per NOFX album that will pop up in rotation.  I should have heard the death knell of the skacore fad way back in the day: the sound of trumpets being overpowered by the end-time cacophony of Brian Setzer cumming as he proclaimed: "Now is the time of Swing! I AM REBORN!"
Did u skank at ur prom when they played that one Bosstones song?  Did the Misfits of Ska comp change ur lyfe? Who is ur favorite Aquabat?  Do u think John Feldman tried to get Attack Attack!? to do coke with him off of a Goldfinger CD?