Stuff You Will Hate has many running themes: being a chill bro, chilling with bros, solid jams, yoga pants, and wisdom from elders seated in crushing regret. File this report under that last one.  Like many of you, I am on Twitter and I follow people who don't realize/care that I exist and I incessantly check whatever dogshit minutia they've twoted onto their twat because existence is a joke.  Some of you may know who Cliffy B is.  For those who have went out in the sun before, he is a prolific game developer who has had a hand in creating some truly entertaining video games (Gears of War series, Unreal Tournament series).  He recently shook up the industry when he announced that he was exiting said industry.  He has no immediate plans to do anything else so, essentially, he has retired at age 37.  Good for him.  He has worked hard, earned a fuck ton of money, and I thank him for all the entertainment he has provided me.  So I follow him on Twitter and he twerted a tweet the other day that made my blood boil:

Now, I'm sure Cliff is a solid bro.  In fact, I met him at PAX East a few years ago as we both accidentally waited in the wrong line for an Irrational Games community meet-up at a hotel bar.  He obligingly made a stupid face for a picture to add to my "I force notable people in the video game industry to make stupid faces for pictures that I will absolutely not jerk off to later" photo album that I think everyone has compiled at some point in their lifetime.  I just want it to be known that this isn't some "fuck teh CliffyBzorz he makes shit games for teh M$ fagbox370!" rant.  I fucking hate the stereotypical gamer internet fighting/trolling shit.  So with that said: fuck you, dude.  YOU won.  YOU got into a blossoming industry at a young age back when there still was an economy and were lucky enough to have a hand in some truly great games.  YOU didn't get a job at a Zynga-like company making Ripoff Of Some Indie Title'ville #340; YOU got to live a dream…and that is fucking awesome.   But do you know what happens to most nerds?  They get friendzone'd 8 to 13 times, gain 70 to 80 lbs.  and are found dead in their mom's basement with a Gundam stuck up their dumper, Naruto wall scroll redeployed as a noose cinched around a doorknob with a quickly cooling load on the adjacent body pillow because working 3rd shift at some assembly line job was too much of a rock'n funzone party to not slip this mortal coil with one last chokerbation sesh.
GPOY
It's bullshit like "Oh man, you're a geek now, but just bear with it!  Once you're outta high school away from all these jocks you're gonna RUN SHIT" that makes the veins in my forehead want to be outside of my fucking skin.  Most people quickly realize that life is not a movie sometime shortly after high school or college.  Many geeky, nerdy people do not because we have Special Snowflake Syndrome.  We're different or told that we're different and we think that somehow things will balance out cosmically.  We'll get the girl or guy or anime body pillow.  We'll have the money and success.  We'll be the ones who are happy.  And that will happen because…well, we had a rough time in the beginning so it will equal out cuz…magic!  What you need to do is take off your "The Geek Shall Inherit the Earth" tshirt, put a bar of soap in it, twist it up, and then beat your fucking face in with it.  You will not be handed anything because you were awkward and quirky growing up.  Well, unless you're a girl with that highly marketable Felicia Day-quirk… then you might get to date a dickhead for a year or two and more followers on Instagram than your male counterpart of equal or lesser value.
"I'm just one of the guys!"
Ok so maybe I lost a few of you because I got all "video game-y" on you.  Maybe you're a "music nerd" then.  Are you a younger bro/fembro living your life by some code instilled via listening to counter-culture-y music (the real under ground shit)? I.e. sXe, "not being a sell out," living a DIY lifestyle, or some other folly of youth bullshit?  If so, fucking stop.  The bands you listen to and look up to are either A. miserable old fuckers who will never be able to retire or B. disingenuous fuckers who learned how to make a business/brand off of creating music for the young people who live by this code we totally know doesn't work.  So it's either "misery loves company" or "misery makes us money." Online poker can also make you money but that's another discussion.
People don't realize the damage they're doing with the whole "it's ok that you're awkward and lack confidence and you don't know what you want to do right now" and if they do know the damage they're doing via "woo rock on nerd pride!" merchandise, they should be put in a machine that mechanically invites them to literally fuck themselves.
There is a game developer that I have a great deal of respect for named Ken Levine.  He heads the company that made the game Bioshock, among other great titles.  I'm going to paraphrase him in regard to an epiphany he had earlier in his career; what pushed him into  a career in game development.  He went to a high school reunion and saw that a lot of the jocks and people he loathed in high school were successful people with attractive spouses who genuinely seemed happy.  He knew then that he needed to go out and make himself happy; he needed to chase down what he wanted.  Nobody walked up to him at a coffee shop and asked to read his script, no record executive was jogging by his garage and heard him and the rest of the Zack Attack practicing, and no one came into his dogshit office job and asked him if he wanted to do what he loved for a living instead.  Basically: the people you hated in high school, the people that picked on you, a lot of them are probably out there being successful because they always had confidence and they always won.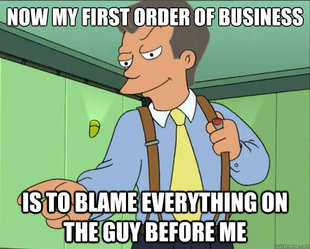 Sharks sheep etc.
I knew a guy in college who was a total fucking cunt.  He had that "I know I'm headed to the top and this is just one of the steps on the way" attitude and he treated everyone like shit.  Towards the end of the semester in a journalism class we both had, during a presentation he revealed that one of his parents died while he was young and so he had a harder upbringing than some and that might be why he is the way he is blah blah etc.  So rather than anyone say "well that sucks but you still chose to be a dick," many of the PR majors (aka girls) who were cursing his fucking eyes for saying some misogynist shit a week or two before were welling up at his story.  I mean, you can get a PR major to well up by walking up to them and going: "one time someone died," but I digress.  So, dude is a successful journalist now.  No one punched him in the neck for being a condescending dick to everyone.  No one questioned the fucked up nature of using family tragedy as a dramatic reveal to be like "you thought you had me figured out, strangers in my journalism class… but look how multi-tiered my brooding depth is!"  He's going to be fine and you're painting miniatures and waiting for any moment now when Blizzard or Bethesda or…fuckin' Kairosoft is going to email you a job offer because they just happened upon your deviantART and they just fell in love with your badass sketches of skulls n' shit.
This isn't some stangry old man "kids these days want everything handed to them" entitlement rant.  I think those people lost the script and are too dumb to realize that "that guy's an asshole because I'm jealous and want that guy's money" and "that guy's an asshole because he thinks he deserves that much money" are two different viewpoints. Unfortunately, money absolutely buys happiness.  You have to look at it as a voucher/pass system: "I have "x" amount of money so that allows me "y" amount of time/resources to do what I like.  What I'm saying is, if you're a nerd bro in high school who is reading this: be selfish with your happiness, think about what you want to do and actually fucking go for it.  Don't half ass it.  Get some confidence but don't be a dick.  There are actually a bunch of nice people out there who will want to hire someone who isn't a fucking handful.  If your guidance counselor is telling you that it's ok that you don't have an idea what you want to do for a living yet, that person is a hack failure.  If you are unlucky enough to not be good at math, science, or businessosity and you have "creative type" leanings, BUILD THE FUCK OUTTA THAT PORTFOLIO.  Write, draw, record, film, and edit like someone's going to put a bullet in your head if you don't.  If you're a college bro, figure out your fucking major and don't choose a bullshit one.  Go out and get real world, hands-on experience, intern the shit out of the situation.  Know what you want to do and get through school as quick as possible because those student loans are going to fuck your holes.
You'll have to take jobs posing for shitty stock photos.  PROTIP: You spent too much time on your arms, brah.  Curls are for delicious fries from Arby's.  You look like Rumble from Transformers.
Have a plan and then work towards it.  Not everyone will succeed.  But at least you can condescendingly look down your nose at all the cowards who never even tried.  Elder SYWH statesmen like myself (and all the genuine fucking gospel that Sarge has been preaching for years) are pulling some real dad shit by laying on the "learn from our mistakes" shit pretty thick.  But we grew up in a really fucked up time with grunge, and PC scene police, and not trying because trying is lame.  Since everything 90's is coming back, I wouldn't be surprised if that shit came back too.  There is nothing wrong with trying and there is nothing wrong with setting goals and chasing them relentlessly.  I have a soft spot for awkward, nerdy people because I think being unpopular and being an outsider can make a person have to try harder and develop a personality that is interesting and a soul that is kind.  Kids who are popular, confident, and attractive don't have to learn how to be funny or talented or kind because there's no fucking need; the world is going to hand them most things because they're already part of the club.  If you're a younger person (fuck I sound like I'm 60) and you read this site, chances are you're on the right path.  You don't take yourself too seriously and that is so, so important. You have to be able to laugh at yourself.  Just don't be a dick and don't think that because you like Doctor Who a bunch, things will start going your way one day.  Disregard pandering "teh nerdz win in the end!" bullshit, acquire a career, confidence, cash n' ass. Do that and your mom won't have to sob as she undoes the sadnoose while coming up with a less lulzy way as to how you took your own life to tell the police.
Jokes about Skyrim and ejaculate to return soon…
Come be a sad old man with me here.
Turn me into someone who doesn't care about his pleb followers here.